Member Benefits
The REALTOR Benefits® Program updates its catalog twice a year. It showcases all the companies offering discounts and benefits to NAR members and complete details on how to begin taking advantage of their unique offer or service.
---

Now available in partnership with REALTORS® Federal Credit Union, a Division of Northwest Federal Credit Union: NAR's official
REALTOR® Credit Card
.
This unique card program is available to existing and new Credit Union members and includes card options for personal and business use. Features of the REALTOR® Credit Card include:
Customized real estate-themed designs
REALTOR® branding options
Competitive interest rates as low as 8.50% APR*
No annual fees, balance transfer or cash advance fees
Comprehensive rewards program (points never expire)
Limited-Time Low APR Balance Transfer Offer
Jump on this chance to save when you transfer high-rate bank and retail credit card debt to your REALTOR® Credit Card. Complete the balance transfer by March 31, 2017 to secure 2.99% APR** on the transferred amount until April 1, 2018 billing cycle. Includes NO Balance Transfer Fee. Additional information about this offer and how-to initiate the balance transfer, as well as credit card application are available at REALTORSfcu.org.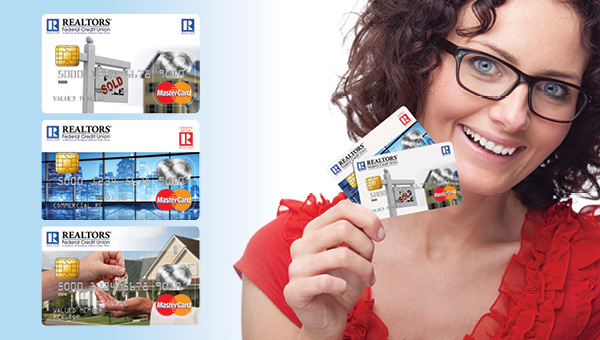 Manage Personal Purchases and Business Expenses
For record keeping and tax planning, apply for two separate personal consumer cards – one for making personal purchases and a second to track business expenses, and select different card designs for each. Apply online for a personal credit card or business credit card. Members concerned about credit also have an option of the Secured Credit Card. A minimum balance of $500 is required, and is a great option for Credit Union members seeking to increase their credit worthiness. To see if you qualify for this option, start the application process here.
For Associations and Brokerages
Operate or manage an office with staff? A business (corporate) card option is also available to state and local associations, brokerages, MLSs, and business account holders. To apply, click here and select the Business (Corporate) Expenses option or call 866-295-6038.
Membership and Application
Membership in the Credit Union is required to apply for the REALTOR® Credit Card. REALTORS®, state and local association staff and family members are eligible to enroll in the Credit Union and apply. A complete Eligibility List is available online at REALTORSfcu.org. If you are not yet a Credit Union member, the process is a streamlined for both Credit Union membership and REALTOR® Credit Card application. Apply today.
*Variable APR is subject to change monthly based on the Prime Rate published in the Wall Street Journal on the last business day of the prior month. Credit card rates apply to cash advances, balance transfers, and outstanding balances on purchases. There is no annual fee, no balance transfer fee and no cash advance fee. Foreign transactions are subject to a fee of up to 1% of the transaction amount. Member Rewards MasterCard holders and REALTOR® Credit Card holders do not receive reward points on balance transfers.
**APR=Annual Percentage Rate. 2.99% is the promotional rate on transfers made 1/1/2017-3/31/2017 until April 2018 billing cycle. After that, the APR for the unpaid balance will be 8.50%-18.00% based on the product you choose and your creditworthiness and will vary with the market based on the Prime Rate. Promotional APR of 2.99% is available on balance transfers from other financial institutions to your Credit Union credit card during the promotional period up to your available credit limit.
Individual program eligibility is subject to state and territory availability, and active NAR membership. See partner site for details, terms, and conditions.
---
The Member Value Plus Program
The NATIONAL ASSOCIATION OF REALTORS® created the MVP Program to encourage members to take Actions that will benefit NAR and its members, as well as to reward members for being an active participant in their Association. Active involvement is the best way to maximize your membership, as well as the best way to make the Association and all our members more successful. And, those members who take the most active role are rewarded with resources that can continue to strengthen their own business.
WHAT YOU NEED TO DO:
Every two weeks a new MVP offer will be posted. All you have to do is complete the specified Action within the timeframe. After you complete the Action, you'll receive instructions and a code via e-mail to redeem your Reward. Click here to view the program Frequently Asked Questions.
WHAT YOU CAN EXPECT TO RECEIVE:
All across the Association, groups have identified Actions and provided valuable Rewards for inclusion in the MVP program, ranging from free e-products to discounts on NAR event registration, and many other valuable Rewards. No matter what the Reward is, the one thing you can count on them all having in common is the incredible value they bring to you as a member. To take a look at the many products that have been included in the MVP program, view them in the www.Realtor.org/Store in the MVP Products category or click here. We also launched an Association Executive program. Association Executives can access their MVP program here.